Stunning Prom Hairstyles for Natural Hair in 2023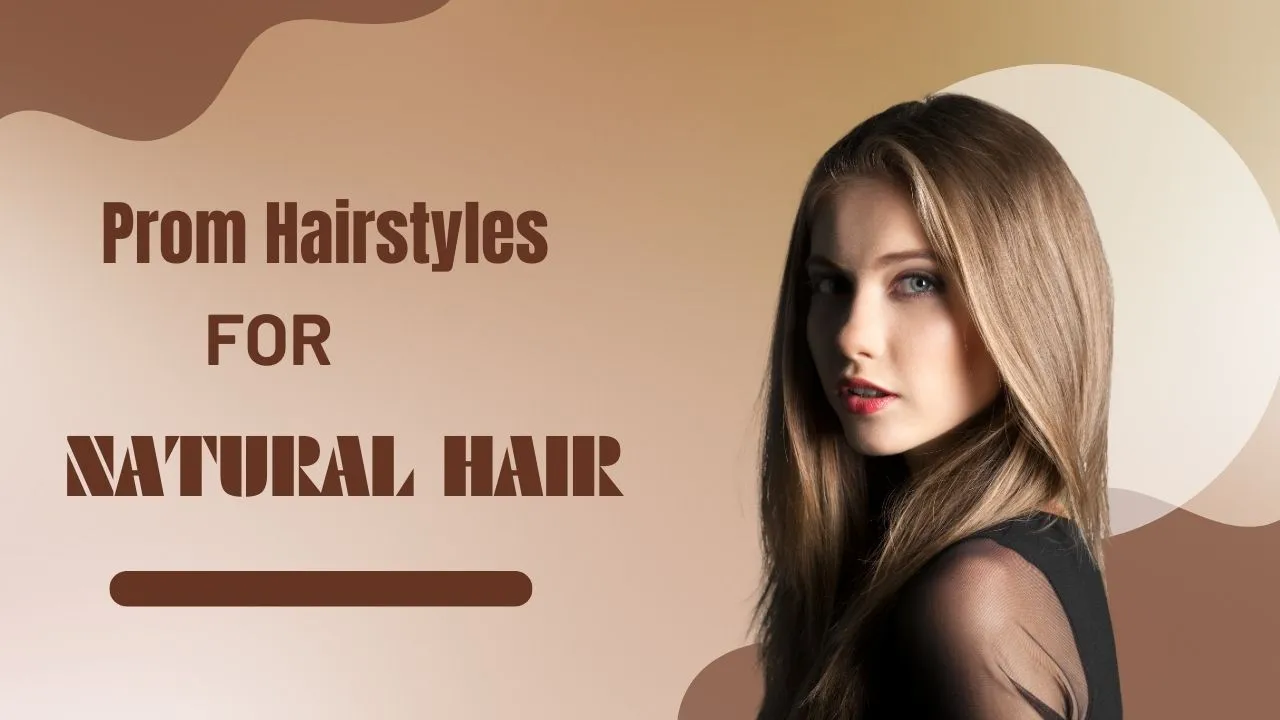 Prom night is a special occasion that calls for a stunning look from head to toe. If you're blessed with natural hair, it's the perfect opportunity to showcase your unique beauty and embrace your natural texture.
In this article, we will explore various prom hairstyles for natural hair that will make you look and feel like the belle of the ball. Get ready to turn heads with these glamorous and eye-catching styles!
Prom Hairstyles for Natural Hair
Prom night is all about celebrating your individuality and style, and what better way to do that than by embracing your natural hair? Prom hairstyles for natural hair allow you to showcase your authentic beauty and create a look that is uniquely yours. There are endless options, whether you prefer elegant updos, glamorous curls, or intricate braids. Let's dive into the world of prom hairstyles for natural hair and discover the perfect style for you.
Preparing Your Natural Hair for Prom
Before exploring the realm of prom hairstyles, it's crucial to properly care for your natural hair to ensure it looks cute with short hair on momentous occasions. Begin by cleansing and nourishing your hair with products specifically designed for your hair type.
Additionally, indulging in deep conditioning treatments can significantly enhance moisture levels and amplify the natural radiance of your locks. When detangling, handle your hair gently using either a wide-tooth comb or your fingers to minimize the risk of breakage.
Elegant Updos for Natural Hair
Updos are a classic choice for prom, as they exude elegance and sophistication. The beauty of updos lies in their versatility, as they can be customized to complement various dress styles and personal preferences.
Here's a step-by-step guide to creating an elegant updo for your natural hair:
Step 1: Prep and Section
Start by applying a lightweight leave-in conditioner to moisturize your hair and make it more manageable. Then, section your hair into smaller portions, using clips or hair ties to keep them separated.
Step 2: Create a Sleek Base
Smooth out your hair by brushing it gently or using a wide-tooth comb. Apply a styling gel or cream with a light hold to achieve a sleek and polished look. This will help control frizz and flyaways.
Step 3: Gather and Secure
Gently gather your hair into a ponytail at the crown of your head, leaving out some front strands to frame your face. Secure the ponytail with a hair tie, ensuring it's tight enough to hold the style in place.
Step 4: Twist and Pin
Divide the ponytail into smaller sections and twist each section tightly. Wrap the twisted hair around the base of the ponytail, forming a bun or chignon. Secure the twists with bobby pins, making sure they're well hidden.
Step 5: Finishing Touches
You can accessorize your updo with decorative hairpins, flowers, or jeweled clips to add an extra touch of elegance. This will elevate your hairstyle and make it more glamorous.
Finish off with a light mist of hairspray to hold everything in place throughout the night.
Glamorous Curls and Waves
If you want to embrace your natural curls or add waves to your hair for a glamorous prom look, there are several techniques you can try:
Flexi Rods: These flexible foam rods can create stunning curls without heat. Start by applying a curl-enhancing product to damp hair, then wrap small sections of hair around the rods. Leave them overnight, or use a hooded dryer to speed up the drying process.
Carefully remove the rods once your hair is dry to reveal beautiful, bouncy curls.
Curling Wands: Curling wands are a popular tool for achieving both loose waves and tighter curls. Start by applying a heat protectant spray to shield your hair from heat damage. Then, wrap small sections of hair around the wand, holding each section for a few seconds before releasing it.
Continue this process until your entire head is curled. Once your curls have cooled, gently tousle them with your fingers for a more natural look.
Bantu Knots: Bantu knots are a stylish protective style and a great way to create defined curls. Divide your damp hair into sections and twist each section tightly. Wrap the twisted hair around itself to form a small knot, and secure it with a hair tie or bobby pins.
Leave the knots in overnight, or use a hairdryer to speed up the drying process. You'll be left with gorgeous, well-defined curls when you unravel the knots.
Remember to use a curl-enhancing product or mousse before styling to help your curls hold their shape throughout the night. You can also use a lightweight oil or serum to add shine and reduce frizz.
Braided Beauties
Braided hairstyles are not only trendy but also versatile and perfect for prom. They can range from intricate and elaborate to simple and chic. Here are a few braided styles to consider:
Cornrows: Cornrows are a classic braiding style that creates neat, parallel braids close to the scalp. They can be done in various patterns and sizes, allowing for endless creativity. Whether you opt for straight-back cornrows or intricate designs, cornrows are stylish for prom.
Box Braids: Box braids are another popular option for prom. These braids are created by sectioning the hair into small squares and then braiding each section from the root to the ends.
Box braids offer versatility and can be styled in different ways, such as updos, ponytails, or half-up, half-down styles.
Twists: Twists, also known as two-strand twists, are created by dividing the hair into two sections and twisting them around each other. They can be done with your natural hair or extensions for added length and volume.
Twists are a low-maintenance option for prom, as they can last several weeks with proper care.
Experiment with different braid sizes, lengths, and patterns to find the style that suits your personality and complements your prom attire. For glam, You can embellish your braided hairstyle with beads, ribbons, or hair cuffs.
Accessorizing Natural Hair for Prom
Accessories play a crucial role in enhancing your prom hairstyle and adding a personal touch. Here are some ideas for accessorizing your natural hair:
Hairpins: Decorative hairpins can add a touch of sparkle or a pop of color to your hairstyle. You can strategically place them throughout your updo or use them to secure any loose strands.
Headbands: Headbands are versatile accessories that can instantly elevate your look. Opt for a headband that complements your dress and personal style. Whether you prefer a bejeweled headband or a floral one, it can add an element of elegance to your hairstyle.
Flowers: Fresh flowers or floral hair accessories can bring a romantic and whimsical vibe to your prom look. Consider tucking a few flowers into your updo or creating a crown of flowers for a bohemian-inspired style.
Jewels: Embellished hairpins, clips, or combs adorned with jewels can add a touch of glamour to any hairstyle. They can be strategically placed to accentuate your updo or braided style.
Choose accessories that reflect your style and complement your overall look. Remember not to overpower your hairstyle but rather let the accessories enhance your natural beauty.
Tips for Long-Lasting Prom Hairstyles
Prom night is filled with dancing, laughter, and memorable moments, so you want your hairstyle to stay intact throughout the festivities. Here are some tips to ensure your prom hairstyle lasts all night:
1. Plan Ahead: Schedule a hair trial with your stylist to test different hairstyles and determine which suits you best. Plan your hairstyle to allow time for any necessary adjustments or practice.
2. Use the Right Products: Invest in quality hair products that suit your hair type and the style you want to achieve. This may include styling gels, creams, hairsprays, or oils. Consult with your stylist or research to find the best products.
3. Consider Protective Styles: If you're worried about your hairstyle getting frizzy or losing its definition, consider opting for a protective style. This could be an updo, braided style, or twist-out that keeps your hair tucked away and protected throughout the night.
4. Bring Touch-Up Essentials: Pack a small bag with essentials like bobby pins, hair elastics, a small comb or brush, and a travel-sized hairspray. This way, you can quickly make touch-ups if needed throughout the night.
5. Use Protective Accessories: Consider using a satin or silk scarf or pillowcase to protect your hairstyle while you sleep the night before prom. These materials help minimize frizz and preserve your style.
6. Avoid Over-Manipulation: Once your hairstyle is complete, avoid excessive touching, brushing, or combing. This can disrupt the style and cause frizz or flyaways. Instead, embrace the beauty of your hairstyle and let it shine.
7. Be Mindful of Weather Conditions: If you're attending an outdoor prom or expecting humid weather, take precautions to protect your hairstyle. Anti-humidity products or a light layer of hairspray to keep your style in place.
Remember, confidence is key! Rock your prom hairstyle with pride, and don't be afraid to let your natural beauty shine through.
Confidence and Self-Love
Prom night is not just about the perfect hairstyle or dress; it's an opportunity to celebrate your individuality and embrace your natural beauty. Your natural hair is unique and beautiful; prom is the perfect occasion to showcase it. Embrace your curls, coils, kinks, or waves confidently and let them be a statement of self-expression.
Stand tall, walk gracefully, and radiate confidence as you make memories that will last a lifetime.
Prom is a celebration of your journey and growth, so embrace your natural hair as a symbol of authenticity. Remember that true beauty comes from within, and by embracing your natural hair, you're showcasing your confidence, self-love, and uniqueness to the world.
Conclusion
Prom night is a special occasion where you can showcase your natural beauty and style. From elegant updos to glamorous curls and braided beauties, there are endless options for prom hairstyles for natural hair. Embrace your unique texture, experiment with different styles, and accessorize to add your personal touch.
With proper preparation, the right products, and a touch of confidence, your prom hairstyle will be a stunning reflection of your individuality.
So, get ready to step onto the dance floor with a hairstyle that turns heads and makes you feel like the belle of the ball. Celebrate your natural hair and embrace the beauty of being true to yourself. Prom is your time to shine, and you will make a lasting impression with your radiant natural hair.
FAQs
What products work best for defining curls in natural hair?

Opt for curl-enhancing products such as curl creams, gels, or mousses for defining curls. Look for products that are specifically designed for your hair type and texture. Experiment with different brands and find the one that works best for you.

How far in advance should I plan my prom hairstyle?

It's recommended to plan your prom hairstyle at least a few weeks in advance. This allows you to schedule a hair trial, make necessary adjustments, and ensure you have all the necessary products and accessories.

Can I incorporate extensions or wigs into my natural hair for prom?

Incorporating extensions or wigs into your natural hair can add length, volume, and versatility to your prom hairstyle. Consult with a professional stylist to ensure a seamless blend and natural look.

What hairstyles work best for short natural hair?

Short natural hair offers versatility and can be styled in various ways. Consider options like a sleek pixie cut, a textured afro, a defined twist-out, or a tapered cut. Embrace the beauty of your short hair and rock a style that makes you feel confident.

How can I prevent frizz in my natural hair on prom night?

To prevent frizz, make sure to moisturize your hair well before styling. Use a leave-in conditioner or a moisturizing hair cream to keep your hair hydrated. Additionally, avoid over-touching or excessive manipulation of your hair throughout the night.
Use anti-frizz serums or oils to tame any flyaways and maintain a smooth, polished look.

Can I DIY my prom hairstyle for natural hair?

Yes, you can certainly DIY your prom hairstyle for natural hair. You can achieve stunning results with the right tools, products, and tutorials. However, suppose you're unsure or want a more intricate style.
In that case, it's always a good idea to consult a professional stylist specializing in natural hair to ensure you achieve your desired look.

How can I make my prom hairstyle last all night?

To make your prom hairstyle last all night, start with a solid foundation using the right products and techniques for your specific hair type. Secure your hairstyle with the appropriate hairpins, elastics, or accessories to ensure it stays in place. Additionally, consider using a strong-hold hairspray to lock your style in.
Remember to handle your hair carefully throughout the night and avoid activities that may cause excessive sweating or friction.

Can I incorporate color into my natural hair for prom?

Absolutely! Adding color to your natural hair can create a stunning and unique prom look. Whether you opt for highlights, ombre, or a bold statement color, consult a professional colorist to achieve the desired result and maintain the health of your hair.

How do I choose the right prom hairstyle for my face shape?

When selecting a prom hairstyle, consider your face shape to find a style that flatters your features. For example, if you have a round face, opting for hairstyles with height and volume on top can help create the illusion of length.
If you have a heart-shaped face, hairstyles that frame the face or add softness around the jawline can be a good choice. Experiment with different styles and consult with a stylist for personalized recommendations.

How do I protect my natural hair while dancing at prom?

Dancing at prom can be a lot of fun, but protecting your natural hair is important. Consider securing your style with additional pins or hair ties to keep it in place during energetic movements. If your hair is in a style that can be easily tousled, consider using a lightweight scarf or hairnet to protect it while you dance.
Additionally, avoid excessive sweating by choosing a well-ventilated venue or taking breaks to cool down and pat your hair dry if needed.
Remember, prom is a special occasion; your natural hair deserves to shine. Embrace your unique texture, experiment with different styles, and, most importantly, enjoy the moment. Celebrate your natural beauty and make memories that will last a lifetime.
I am Rebecca White, a passionate fashion blogger with an expertise in hair styling and tattoos. I have spent years honing my skills and knowledge in these areas, and have become known for helping my followers achieve their desired looks. Through my blog, I share helpful tips and tricks on how to achieve the perfect hairstyle or tattoo design, while staying up-to-date on the latest trends in fashion.