9 Stunning Prom Hairstyles for Long Hair in 2023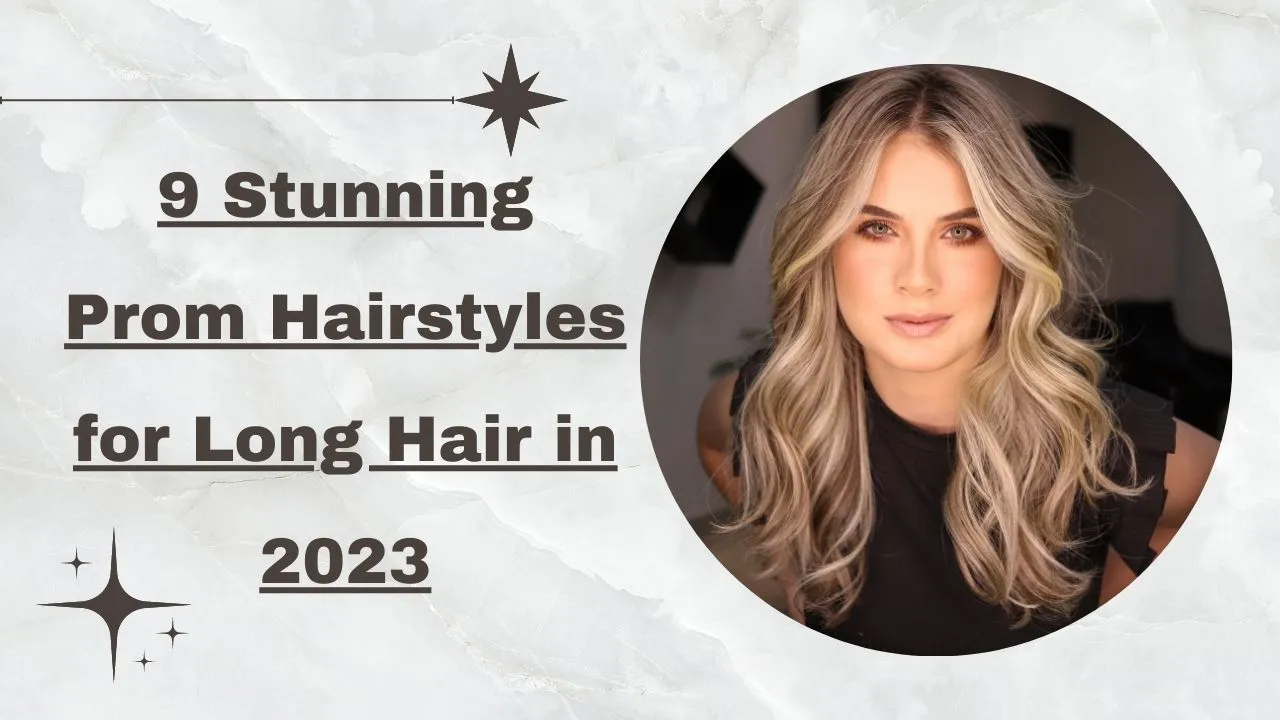 Prom night is highly anticipated, and finding the perfect hairstyle to complement your long hair is crucial. You can make a stunning statement with your hair with an array of options. In this article, we'll explore a variety of prom hairstyles specifically tailored for long hair, ensuring you stand out on this memorable occasion.
Types of Prom Hairstyles for Long Hair
When it comes to prom hairstyles for long hair, the possibilities are endless. Here are some popular types of hairstyles you can consider:
Updo Hairstyles
Updo hairstyles exude elegance and sophistication, making them a classic choice for prom. Whether you opt for a sleek bun, a chic chignon, or a beautifully twisted updo, these styles will add a touch of glamour to your overall look.
Half-Up Half-Down Styles
This style is classic, timeless, and stunning. You'll want to start by curling your hair with a curling iron or wand to achieve it. Once your entire head of hair is curled, you can move on to creating a half-up/half-down look.
Start by gathering some hair from each side of your head and tying them together at the back with an elastic band.
Then you can use bobby pins to secure loose strands and ensure everything stays put all night long! Finish this look with a sparkly accessory like a rhinestone comb or barrette for added glamour.
Braided Hairstyles
This elegant updo is perfect for those wanting a more sophisticated look than the half-up/half-down style but still want to keep their locks down at least partially. It works well for every hair type. Begin by braiding two sections of your freshly washed and brushed hair along each side of your head before securing them with an elastic band or bobby pin at the back of your neck.
Then, gather all remaining strands from both sides and twist them up into a bun before securing it with bobby pins as well. This style looks even more stunning when accessorized with pearl clips or small rings placed strategically throughout the braids and bun – they're sure to add some sparkle!
Loose Curls
Loose curls have an enchanting allure and are a popular choice for prom. Adding soft waves and volume to your long hair gives you a glamorous and effortlessly chic look.
Don't forget to accessorize with statement hairpieces or delicate floral accents to complete the style.
Low Sleek Hairstyles
If you're looking for something sleek, chic, and totally on trend right now, consider rocking this low-slick bun on prom night! To pull off this look successfully, you only need some strong-hold hairspray and plenty of patience, as it may take some time to get everything right!
Start by brushing all your hair backward and gathering it into a low ponytail before spritzing it generously with hairspray from top to bottom.
Next, use an elastic band or bobby pins to secure it before pulling individual strands over one another until everything looks perfectly neat. Add a few more spritzes of hairspray before securing any loose ends with pins if necessary – voila! You've got yourself one stunning sleek hairstyle for prom!
The French Twist
This classic look has been around since the 1950s but never goes out of style. To achieve this look, gather all your hair into a low ponytail, securing it with an elastic band. Then twist the tail into a bun shape and secure it with bobby pins.
Finally, curl the ends to soften the look, and you'll be ready to dance the night away! Add some sparkly barrettes or decorative clips near the top of your head for an extra touch of glamour.
The High Ponytail
Try this high ponytail look for those who want something more edgy yet still glamorous! Begin by brushing through your hair to remove any knots or tangles. Then use an elastic band to gather it up in a high ponytail at the crown of your head.
Use a comb to smooth down any flyaway or baby hairs around your face before securing everything in place with hairspray or gel for extra hold. For added drama, try styling small sections around your face into curls or waves before pulling them back into the ponytail!
Finish off by adding some statement earrings to draw attention to your beautiful face!
Low Ponytail
Prom night is a special event for many young people, and it's important to feel confident in your look. Show off those gorgeous locks with low ponytail prom hairstyles! These styles offer an effortless appearance that is perfect for prom night.
Whether you choose a sleek and chic high-glam ponytail or a more casual style with wispy bangs, you will surely look timelessly beautiful in this prom staple. Top off the look with simple earrings & subtle makeup so that all eyes stay focused on your elegant prom!
Styling Tips for Long Hair
To ensure your prom hairstyle looks flawless, here are some essential styling tips for long hair:
Use heat protectants: Prioritize protecting your hair from heat damage by applying a heat protectant spray or serum before using hot styling tools.
Select suitable hair products: Choose styling products that provide hold and longevity without weighing down your hair. Use hairspray, mousse, or texturizing sprays based on your desired style.
Maintain the hairstyle: Carry a small travel-sized hairspray and bobby pins for touch-ups throughout the night, ensuring your hairstyle stays intact from the first dance to the last.
Consider your dress neckline: Coordinate your hairstyle with your prom dress neckline. For strapless dresses, updos or side-swept styles work well, while open-back dresses can be complemented with intricate braids or elegant low buns.
Don't forget hair accessories: Add a sparkle or a hint of romance with hair accessories like embellished hairpins, headbands, or floral accents. Choose accessories that complement your dress and personal style.
Accessories and Embellishments
Accessories play a significant role in enhancing your prom hairstyle. Consider these options to add an extra wow factor:
Hairpins: Use decorative hairpins to secure your updo or add embellishments to your braided hairstyles.
Headbands: Opt for a stylish headband to complement your half-up half-down style or add a touch of elegance to loose curls.
Floral accents: Incorporate fresh flowers or floral hairpieces for a romantic and bohemian vibe.
Sparkling accessories: Adorn your hairstyle with rhinestone hairpins, jeweled barrettes, or tiaras for glamour.
Hair Care Preparations
Before prom night, ensure your long hair is in optimal condition. Follow these hair care preparations to make your hair look its best:
Pre-event treatments: Consider scheduling a deep conditioning treatment or hair mask a week before the event to nourish and revitalize your locks.
Trims: Visit your hairstylist a few weeks before prom to eliminate split ends and ensure your hair looks healthy and polished.
Proper nourishment: Maintain a well-balanced diet and stay hydrated to promote healthy hair growth and natural shine.
Matching the Hairstyle with the Dress
Your prom hairstyle should harmonize with your dress to create a cohesive and stunning look. Here are some tips for matching your hairstyle with your prom dress:
Opt for a timeless updo or sleek ponytail for a classic or elegant dress.

Consider a more understated hairstyle like loose waves or a simple braid if your dress has intricate details or embellishments.

For a bohemian or ethereal dress, loose curls or a braided crown can create a whimsical and romantic look.
Remember to consider the overall theme and your style when choosing a hairstyle that complements your dress.
Hairstyling Tools and Products
To achieve the perfect prom hairstyle, ensure you have the necessary tools and products on hand:
Curling irons or wands:

These tools create different curls or waves, allowing you to experiment with different looks.

Flat irons:

Ideal for creating sleek, straight styles or adding gentle bends to your hair.

Hairspray:

Choose a hairspray with a flexible hold to keep your hairstyle in place without making it stiff or crunchy.

Shine serums:

Apply a small amount of shine serum to add a glossy finish to your hair and tame any flyaways.
Experiment with different tools and products to achieve the desired look for your prom night.
Conclusion
With so many stunning options available these days, it can be hard choosing just one prom hairstyle that fits perfectly on such an important occasion – but hopefully, this blog post has provided some inspiration to help make the process easier!
Whether you opt for glamorous curls cascading down your back or decide instead on something sleek like a low slick bun, you'll be sure to turn heads come prom night!
So go ahead – let out inner stylist shine through as you create something truly unique that reflects who you are while also making sure you feel comfortable in whatever style you choose! Best wishes for having an unforgettable evening full of fun memories that last forever!
FAQs
Can I create prom hairstyles for long hair without using heat styling tools?

Yes, heatless methods like braiding or using overnight curling techniques can help you achieve beautiful curls or waves without heat.

How do you wear long hair for prom?

There are various options for wearing long hair to prom, including elegant updos, half-up half-down styles, braided hairstyles, and loose curls, depending on personal preference and style.
I am Rebecca White, a passionate fashion blogger with an expertise in hair styling and tattoos. I have spent years honing my skills and knowledge in these areas, and have become known for helping my followers achieve their desired looks. Through my blog, I share helpful tips and tricks on how to achieve the perfect hairstyle or tattoo design, while staying up-to-date on the latest trends in fashion.