Prom Hairstyles for Short Hair in 2023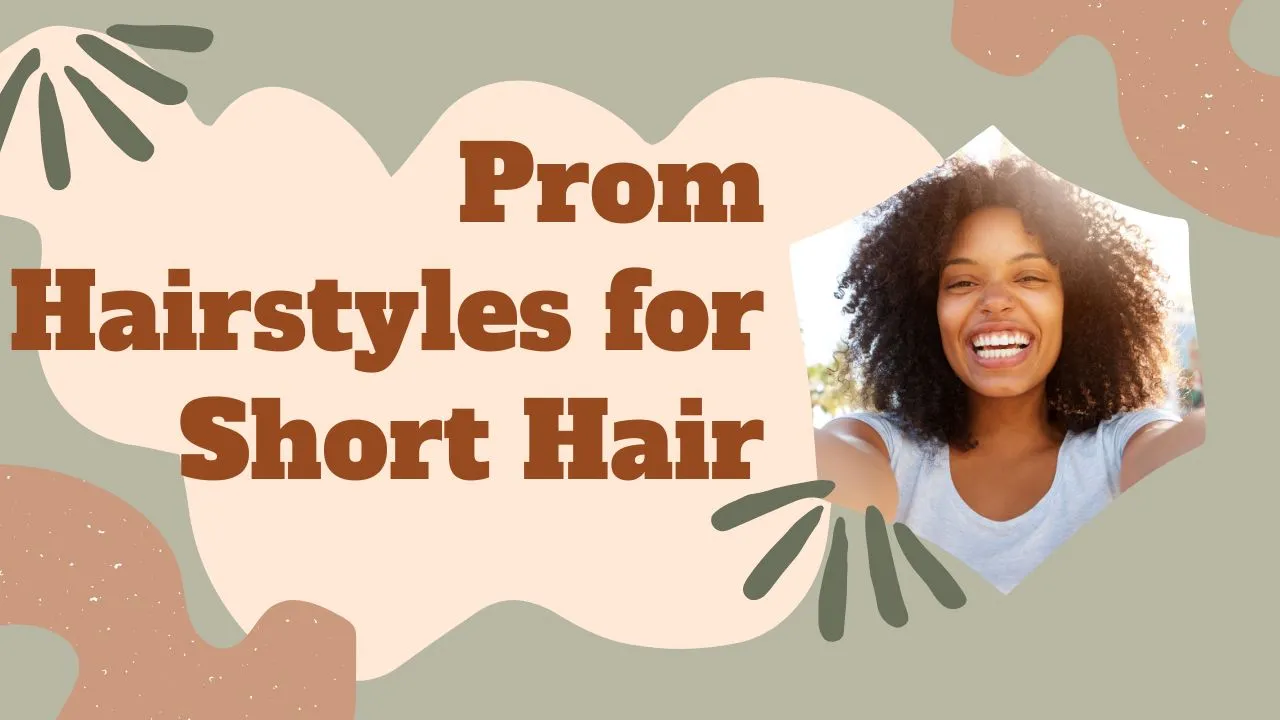 Prom is a special occasion that calls for an equally special hairstyle. If you have short hair, don't fret! Plenty of stunning prom hairstyles can be tailored to suit shorter locks. This article will explore various hairstyle ideas and tips to help you rock your prom night with confidence and style.
The Importance of Prom Hairstyles for Short Hair
Your prom hairstyle plays a significant role in completing your overall look. It can enhance your facial features, complement your outfit, and make you feel beautiful and confident. Choosing the right hairstyle for short hair requires some considerations.
Hairstyle Considerations for Short Hair
Several factors should be considered when selecting a prom hairstyle for short hair. These include your face shape, hair texture and length, and personal style.
Face Shape
Different face shapes suit different hairstyles. For instance, if you have a round face, you may opt for hairstyles that add height and elongate your features. Soft waves or curls can help soften your angles if you have a square face.
Hair Texture and Length
The texture and length of your hair will determine which hairstyles are most suitable for you. Pixie cuts, bob haircuts, or chin-length styles can all be styled elegantly for prom.
Personal Style
When choosing a hairstyle for prom, it's important to consider your style and the overall vibe you want to convey. Whether aiming for a sleek and sophisticated look or a more romantic and whimsical style, your hairstyle should align with your personality and make you feel at ease and confident.
This applies to short and long hair for prom night, as the goal is to find a hairstyle that complements your individuality and helps you shine on your special night.
Styling Ideas for Short Hair
Now that we've discussed the essential considerations let's explore some fantastic styling ideas for short hair that will make you the belle of the ball.
Sleek and Straight
For a chic and modern look, consider wearing your short hair, sleek and straight. Use a flat iron to achieve a smooth texture, and finish with a shine-enhancing serum for a glossy finish.
Romantic Updos
Short hair can still be styled into elegant updos. Try a braided updo, a twisted bun, or a messy chignon. Secure your updo with bobby pins and a light-hold hairspray to keep it in place all night.
Vintage-Inspired Curls
Embrace a retro vibe with vintage-inspired curls. Use a curling iron or hot rollers to create soft curls or tight waves. Finish with a texturizing spray to add volume and hold.
Braided Beauties
Braids can add an intricate and unique touch to short hair. Try a braided crown, a fishtail braid, or a braided accent to elevate your prom hairstyle.
Accessorize Your Hair
Hair accessories can instantly elevate your prom hairstyle. Add hair clips, barrettes, headbands, floral crowns, or hair combs that match your prom dress or theme. These accessories add a touch of glamour and individuality.
Half-Up Half-Down Style
This classic look is perfect for any hair length but especially flattering on those with shorter cuts. Start by gathering your hair from the temple's back, leaving out a few strands at the front to frame your face. Secure your gathered strands with a clear elastic.
Pull up the ends of your ponytail and secure them in an elastic, creating an "S" shape in the back. To finish the look, lightly tug at pieces of your ponytail and add hairspray to keep everything in place!
Twisted Updo
Try this twisty style for a more intricate updo that's still appropriate for prom! Begin by spraying some dry shampoo onto your roots and brushing through them with a teasing comb.
This will give you some extra texture and volume while helping hold everything in place later. Create two low braids on either side of your head and twist them into buns at the nape of your neck. Secure each bun with bobby pins and tuck any flyaways into place with hairspray for a polished finish!
Messy Bun Prom Hairstyles for Short Hair
If you want something that's both edgy and elegant all at once, try out this messy bun style! Start by gathering your hair towards the top of your head, leaving out bangs if desired. Secure it using an elastic or clip, and then use bobby pins to create some height around the crown of your head (this will help give you volume).
Tug at pieces around the front to create softness before finishing with hairspray!
How to hairstyle short hair for school?
When styling short hair for school, simplicity and practicality are key. One easy and time-saving option is to embrace your natural texture by applying a lightweight mousse or styling cream to enhance your hair's natural waves or curls.
If you prefer a sleeker look, use a flat iron to straighten your hair or create gentle waves. Another option is to play with different hair accessories like headbands, hair clips, or scrunchies to add a touch of personality to your hairstyle.
For those with shorter pixie cuts, a small amount of styling wax or pomade can help create a textured and edgy look. Remember to keep your hairstyle comfortable and fuss-free, allowing you to focus on your studies and enjoy your day at school.
Hair Accessories for Short Hair
To enhance your prom hairstyle further, here are some fabulous hair accessories that work well with short hair:
Hair Clips and Barrettes
Hair clips and barrettes come in various designs, from delicate and minimalist to bold and statement-making. They can secure hair sections, create interesting patterns, or add sparkle to your look.
Headbands and Hairbands
Headbands and hairbands are versatile accessories that can transform your short hair into a stylish and elegant look. Opt for embellished headbands, floral designs, or simple metallic bands.
Floral Crowns and Hair Combs
If you aim for a bohemian or romantic look, floral crowns or hair combs adorned with flowers can create a whimsical and ethereal vibe. Choose flowers that complement your prom dress and color scheme.
Hair Jewelry and Pins
Consider adding hair jewelry or pins to your short hairstyle for a touch of sophistication. Delicate crystal pins, pearl hair clips, or decorative hair chains can add a touch of glamour and elegance.
Tips for Maintaining Prom Hairstyles for Short Hair
To ensure your prom hairstyle looks flawless throughout the night, follow these essential tips for maintaining your short hair:
Prepping Your Hair
Start with clean, freshly washed hair before styling. Apply a lightweight mousse or volumizing spray to add texture and hold. Blow-dry your hair using a round brush to create volume or a paddle brush for a sleeker look.
Choosing the Right Products
Select hair products that suit your hair type and desired style. Use a heat protectant spray before using hot tools, and opt for a hairspray with the right level of hold to keep your style intact.
Setting Your Style
Once you've achieved your desired prom hairstyle, set it in place with a light-hold hairspray. Avoid excessive touching or brushing throughout the night to prevent frizz and maintain the integrity of your style.
Conclusion
Short hair doesn't limit your options when it comes to prom hairstyles. With the right considerations, styling techniques, and accessories, you can create a stunning, unique look. Embrace your short hair and make a statement on your special night.
FAQs
Can I create an updo with very short hair?

Yes, even with very short hair, you can create updos using braids, twists, or buns. Experiment with different styles and consult with a hairstylist for personalized advice.

Will using hair accessories make my short hair look crowded?

Hair accessories can enhance your short hair without making it look crowded. Choose accessories that complement your hairstyle.

How can I add volume to my short hair for a prom hairstyle?

You can use a volumizing mousse or spray before blow-drying to add volume to your short hair. You can also try backcombing the roots or using a texturizing powder for extra lift and body.

How can I look cute with short hair?

To look cute with short hair, consider adding soft curls or waves, experimenting with hair accessories, and embracing playful hairstyles like a pixie cut or a cute bob.

How do you pin short hair back from your face?

To pin short hair back from your face, use bobby pins or small hair clips to secure the hair away from your face, creating a stylish and effortless look.
I am Rebecca White, a passionate fashion blogger with an expertise in hair styling and tattoos. I have spent years honing my skills and knowledge in these areas, and have become known for helping my followers achieve their desired looks. Through my blog, I share helpful tips and tricks on how to achieve the perfect hairstyle or tattoo design, while staying up-to-date on the latest trends in fashion.