15 Red Carpet Updos to Copy for Prom Night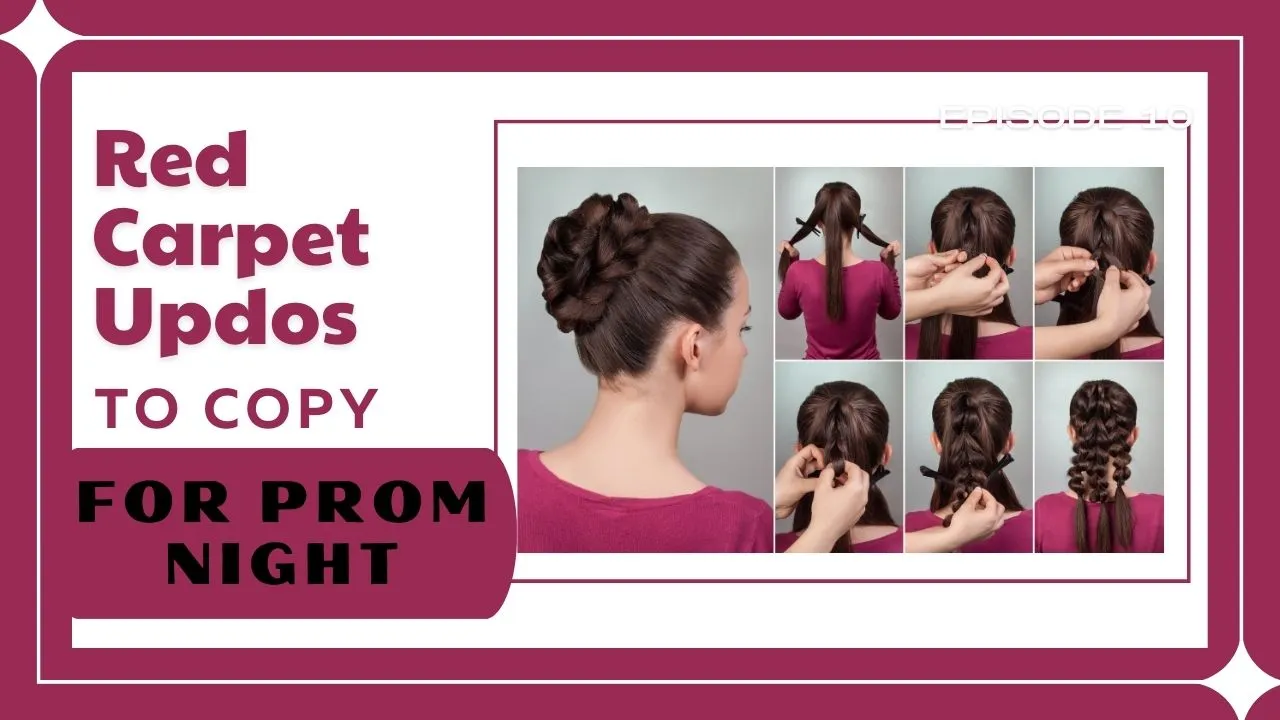 Prom night is an event that holds immense significance for many high school students. It's an evening filled with anticipation, memories, and the opportunity to showcase one's style.
One way to make a statement and exude elegance on this special night is by opting for a red carpet-inspired updo hairstyle. Red carpet updos are glamorous and versatile, allowing you to experiment with different looks that suit your taste and complement your outfit.
In this article, we will explore various red-carpet updos you can consider for your prom night, offering you the chance to steal the spotlight and create lasting memories.
The significance of red carpet updos
Red carpet updos are a remarkable inspiration source for prom night hairstyles. As celebrities grace the red carpet with their stunning looks, their hairstyles become trends that transcend the glamour of Hollywood.
By replicating these iconic updos, including updos for thin hair, you can achieve a sophisticated, elegant look that will undoubtedly make heads turn.
Whether you prefer a classic, romantic, or edgy style, red carpet updos offer a wide range of options to suit your personal preferences, showcase your individuality, and cater specifically to thin hair types.
Choosing the right updo for prom night
When selecting a red carpet updo for prom night, it's important to consider factors such as your hair length, texture, and the overall style you wish to portray.
Each updo can be tailored to match your unique features and complement your prom dress, ensuring a cohesive and stunning appearance.
By carefully selecting the right updo, you can create a harmonious balance between your hair, outfit, and accessories, enhancing your overall prom night look.
Classic updo hairstyles for prom night
The Classic French Twist
This timeless look is perfect for any special occasion, especially prom night. It looks best when kept sleek and simple, but you can always jazz it up with accessories if you want to stand out. To get this look, create a deep side part, then gather your hair into a low ponytail at the base of your neck.
Twist the ponytail until it wraps around itself, then pin it into place with bobby pins. Finish off with hairspray to hold it in place all night long!
Tousled Bun
A tousled bun is a great way to keep your hair off your face while still looking chic and elegant on the dance floor. To get this look:
Start by creating a deep side part and gathering your hair into a high ponytail at the crown of your head.

Tease the ends of the ponytail with a comb or brush before twisting it until it forms a bun shape at the base of your head.

Secure with bobby pins and finish off with hairspray for extra hold!
Braided Updo
Braided updos are one of our favorites for prom because they are both elegant and timeless! To get this look:
Create two French braids along either side of your head from front to back (or ear to ear).

Gather all your hair together at the back, then twist it into an updo shape before securing it with bobby pins.

Finish off with hairspray or gel for extra hold!
Sleek Ponytail
If you want something sleek and modern, try this sleek ponytail style! Start by brushing all your hair away from your face before gathering it together in one hand at the nape of your neck.
Use an elastic band to secure it, then use bobby pins to tuck any stray pieces away neatly behind your ears before finishing off with hairspray or gel for extra hold!
Romantic updo hairstyles for prom night
Soft curls updo
Soft curls add a romantic and feminine touch to any hairstyle. By incorporating delicate curls into your updo, you can achieve a dreamy, ethereal look that complements flowing gowns and floral details.
Braided updo
Braids offer endless possibilities when it comes to updo hairstyles. Whether it's a braided crown, fishtail braid, or Dutch braid, incorporating braids into your prom night updo can add texture and intrigue to your overall look.
Floral updo
A floral updo evokes a whimsical and fairytale-like ambiance. Incorporating fresh flowers or floral accessories into your updo allows you to create a blooming masterpiece that captures the essence of spring and romance.
Edgy updo hairstyles for prom night
Messy updo
The messy updo embraces a carefree and effortlessly chic style. This textured and tousled look can be achieved by teasing the hair, creating a fashionable and edgy statement for prom night.
Mohawk-inspired updo
A Mohawk-inspired updo might be the perfect choice if you're seeking a bold and unconventional look. This edgy style involves sleek sides and a voluminous center, resulting in a striking and avant-garde appearance.
Fauxhawk Updo
The fauxhawk updo combines the elements of a classic updo with the edginess of a Mohawk. By creating volume at the crown of your head and pinning the sides, you can achieve a stylish and daring updo that showcases your unique personality.
DIY tips for achieving red carpet updos
Creating a red carpet updo at home can be an exciting and rewarding experience for those who enjoy a hands-on approach. Here are some helpful tips to guide you through the process:
Preparing the hair

: Start with clean, dry hair and apply a texturizing spray or mousse to add grip and volume. Brush the hair thoroughly to remove any tangles or knots.

Styling techniques and tools

: Depending on the chosen updo, you may need hairpins, bobby pins, a teasing comb, a curling iron, or a straightening iron. Familiarize yourself with the required tools and practice the techniques beforehand.

Securing the updo with pins and hairspray

: Use hairpins or bobby pins to secure the hair in place as you style your updo. Finish with a light mist of hairspray to ensure longevity and hold throughout the night.
Seeking professional help for red carpet updos
If you prefer to leave your prom night hairstyle in the hands of a professional, it's advisable to consult a hairstylist who specializes in formal and red carpet-inspired looks.
A skilled hairstylist can guide you in choosing the most suitable updo for your hair type and face shape, considering your preferences and the theme of your prom night.
Accessories to enhance red carpet updos
Consider incorporating accessories that complement your hairstyle and overall look to elevate your red carpet updo and add the finishing touches. Here are some popular options:
Sparkling hairpins and clips
Add a touch of glamour and elegance to your updo with sparkling hairpins or clips. These accessories can be strategically placed to enhance the intricate details of your hairstyle.
Headbands and tiaras
Opt for a headband or tiara that matches your dress and hairstyle for a princess-like appearance. These accessories add a regal touch and create a focal point for your overall look.
Fresh flowers and embellishments
Embrace nature's beauty by incorporating fresh flowers or other embellishments into your updo. These elements bring a touch of whimsy and create a unique and enchanting look.
Finalizing the prom night look
To complete your prom night look, it's essential to consider other aspects such as makeup, nails, jewelry, and shoes. Here are some tips to ensure a cohesive and stunning overall appearance:
Makeup and nail considerations
Coordinate your makeup and nail color with your chosen hairstyle and dress. Whether you prefer a bold lip color or a subtle, natural look, ensure that your makeup complements your overall style.
Coordinating jewelry and shoes
Select jewelry that enhances your dress and updo without overpowering them. Opt for pieces that complement the neckline and color of your dress. Similarly, choose comfortable shoes and match your prom night ensemble's style and color scheme.
Conclusion
The possibilities are endless for finding the perfect updo hairstyle for prom night! Whether you're looking for something timeless like a classic French twist, or something more modern like a sleek ponytail, there are plenty of red carpet-inspired looks that will take you right through until dawn without having to worry about any pesky flyaways or frizziness ruining your big night out!
Don't forget those accessories can also be great styling tools; add some sparkly clips or diamonds if you want extra glamour on prom night! Good luck finding the perfect style!
FAQs
How long does it take to create a red carpet updo?

Creating a red carpet updo can take anywhere from 30 minutes to an hour, depending on the complexity of the hairstyle and your familiarity with the techniques involved.

Can I achieve a red carpet updo with short hair?

Absolutely! Various updo styles can be adapted to suit shorter hair lengths. Consult with a hairstylist who specializes in formal hairstyles to explore the options available for your hair length.

Should I wash my hair before styling it for a red carpet updo?

It's generally recommended to wash your hair the day before styling it for a red carpet updo. Hair that is slightly dirty or has a bit of natural oil tends to hold styles better.
What types of dresses work best with red car

What types of dresses work best with red carpet updos?

Red carpet updos can complement various dress styles, from sleek and form-fitting to flowing and ethereal. Consider your dress's neckline, fabric, and overall style when selecting a red carpet updo.

Are red carpet updos suitable for different hair textures and colors?

Red carpet updos can be adapted to suit various hair textures and colors. Whether you have straight, wavy, or curly hair, a skilled hairstylist can customize the updo to complement your unique features.
I am Rebecca White, a passionate fashion blogger with an expertise in hair styling and tattoos. I have spent years honing my skills and knowledge in these areas, and have become known for helping my followers achieve their desired looks. Through my blog, I share helpful tips and tricks on how to achieve the perfect hairstyle or tattoo design, while staying up-to-date on the latest trends in fashion.