15 Prom Hairstyles For Turtleneck Dress in 2023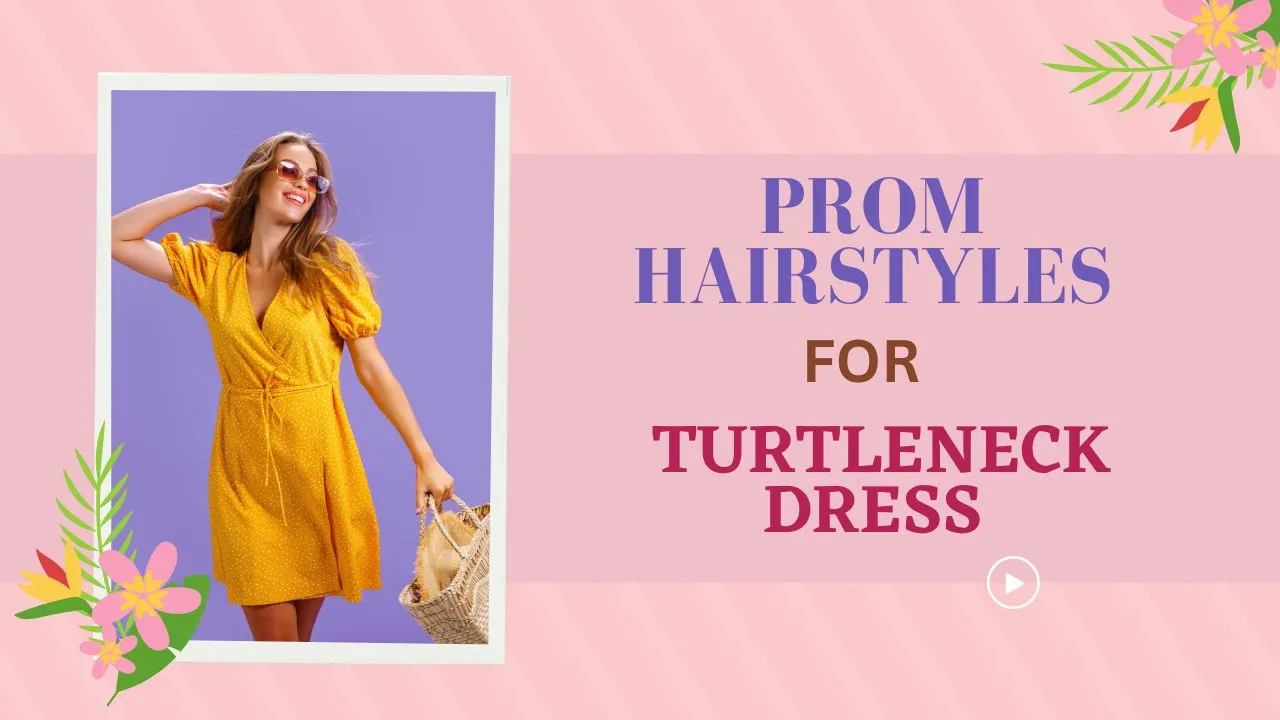 Prom night is a magical event, and choosing the perfect hairstyle to complement your turtleneck dress can be a daunting task.
After giving it some thought, I've put together a comprehensive guide to help you find the ideal hairstyle that will not only suit your turtleneck dress but also make you feel like a million bucks on your big night. So, hold your horses and let's dive in!
Types of Turtleneck Dresses
Before we jump into specific hairstyles, let's first take a look at the two main types of turtleneck dresses you might be wearing to prom.
Sleeveless Turtleneck Dresses
Sleeveless turtleneck dresses offer a modern and chic look, perfect for showing off your arms. The absence of sleeves adds a touch of sophistication and allows for more flexibility in choosing a hairstyle.
Long Sleeve Turtleneck Dresses
Long sleeve turtleneck dresses provide an elegant and classic appearance, making them a timeless choice for prom. The presence of sleeves creates a more formal look, which can influence your hairstyle selection.
Choosing the Perfect Prom Hairstyle for Your Turtleneck Dress
Complementing Your Dress Style
When choosing a prom hairstyle, it's essential to consider your dress style to create a harmonious overall look.
For instance, a more formal long sleeve turtleneck dress might look best with a classic updo, while a sleeveless turtleneck dress could pair well with a trendy braided hairstyle.
Considering Your Hair Length
Your hair length can also play a significant role in determining the best hairstyle for your turtleneck dress. Some hairstyles may work better with long hair, while others might be more suited to shorter hair.
Prom Hairstyles for Sleeveless Turtleneck Dresses
Elegant Updo
An elegant updo can be the perfect complement to a sleeveless turtleneck dress. This hairstyle helps to elongate your neck while showcasing your shoulders and collarbone. A classic chignon or a twisted bun can look stunning with this type of dress.
Braided Crown
For a more bohemian vibe, consider a braided crown. This hairstyle wraps around your head, creating a beautiful and romantic look that pairs well with a sleeveless turtleneck dress.
Slicked-Back Ponytail
A slicked-back ponytail is a sleek and modern option for prom night. This hairstyle works well with sleeveless turtleneck dresses, as it highlights your shoulders and creates a clean, polished appearance.
Prom Hairstyles for Long Sleeve Turtleneck Dresses
Classic Chignon
A classic chignon is an elegant and timeless hairstyle that works well with long sleeve turtleneck dresses. This low bun can be situated at the nape of your neck, creating a sophisticated look that pairs beautifully with the formal nature of a long sleeve dress.
Loose Waves
Loose waves provide a soft and romantic look that can beautifully complement a long sleeve turtleneck dress. This hairstyle can be achieved with a curling iron or hot rollers and helps to balance the formality of the dress.
Half-Up, Half-Down
A half-up, half-down hairstyle can be a versatile option for a long sleeve turtleneck dress. This style allows you to showcase your hair's length while still adding an element of elegance and sophistication.
Accessory Ideas for Turtleneck Dress Hairstyles
Hairpins and Barrettes
Adding hairpins or barrettes to your prom hairstyle can provide an extra touch of glamour and sparkle.
Headbands
Wearing a headband can help to accentuate your hairstyle and add a unique element to your prom look.
Flowers
Incorporating flowers into your hairstyle can create a romantic and whimsical appearance.
Hairstyling Tips for Prom Night
Don't forget to give your hair a trial run before the big night. Use high-quality hair products to ensureyour hairstyle lasts throughout the event.
Consult with a professional hairstylist for advice on the best hairstyle for your face shape and dress style. Keep an emergency hair kit handy for touch-ups during the night.
Conclusion
Choosing the perfect prom hairstyle for your turtleneck dress can make a world of difference in your overall look and confidence on prom night.
By considering factors such as your dress style, hair length, and personal preferences, you can find a stunning hairstyle that will make you feel like the belle of the ball.
Don't forget to add some stylish accessories and follow our hairstyling tips to ensure your prom night is one to remember!
FAQs:
Can I wear my hair down with a turtleneck dress?

Yes, wearing your hair down can still look great with a turtleneck dress. Loose waves or straight hair can create a balanced appearance.

What hairstyle looks best with a turtleneck?

The best hairstyle for a turtleneck often involves an updo or a sleek ponytail, as these styles showcase the neckline and elongate the neck.

What hairstyle looks best with a high neck dress?

An updo or a pulled-back hairstyle works well with a high neck dress, as it highlights the neckline and creates a balanced, elegant appearance.
I am Rebecca White, a passionate fashion blogger with an expertise in hair styling and tattoos. I have spent years honing my skills and knowledge in these areas, and have become known for helping my followers achieve their desired looks. Through my blog, I share helpful tips and tricks on how to achieve the perfect hairstyle or tattoo design, while staying up-to-date on the latest trends in fashion.