21 Prom Hairstyles For Medium Hair in 2023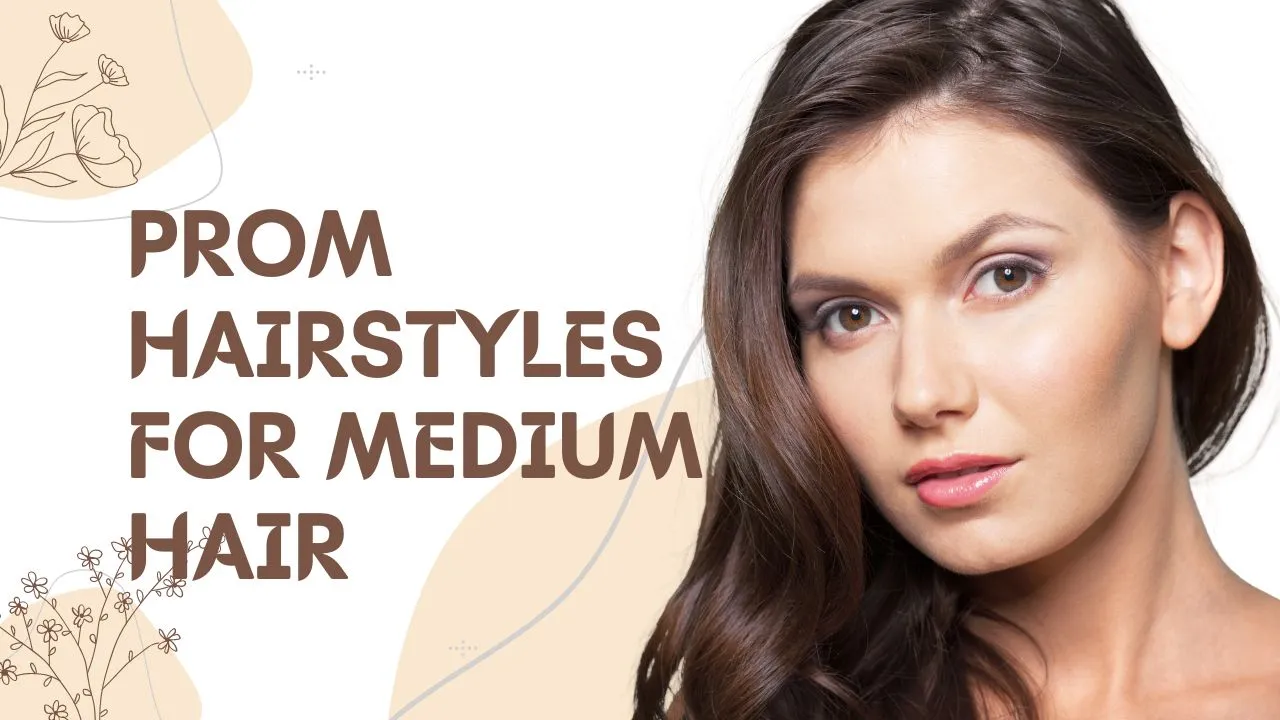 Prom night is a special occasion where you want to look your absolute best, and your hairstyle plays a significant role in completing your overall look. With medium hair length, you have plenty of options to create stunning hairstyles that will make heads turn.
Whether you prefer a classic and elegant look or want to try out the latest trends, this article will guide you through some amazing prom hairstyles for medium hair.
Factors to Consider When Choosing a Prom Hairstyle For Medium Hair
Before diving into the specific hairstyles, it's important to consider a few factors that can help you narrow down your options and find the perfect prom hairstyle for your medium hair.
1) Hair Length and Texture
The length and texture of your hair will determine the hairstyles that are achievable and will hold up throughout the night. Medium hair is versatile, allowing you to create both updos and down hairstyles.
If you have naturally curly or wavy hair, you can embrace your texture and enhance it with the right styling techniques.
2) Face Shape
Your face shape should also be taken into account when choosing a prom hairstyle. Certain styles can complement and flatter different face shapes.
For example, if you have a round face, adding height to your hairstyle can create the illusion of a slimmer face.
3) Dress Style and Neckline
Your prom dress style and neckline should harmonize with your hairstyle. If you have a dress with intricate details or an elaborate neckline, a simple and elegant updo can help showcase those features.
On the other hand, a strapless or off-the-shoulder dress can be complemented by a hairstyle that highlights your collarbones and shoulders.
How to do up hairstyles for medium-length hair?
To create up hairstyles for medium-length hair, start by preparing your hair with products that add texture and hold. Then, explore various options such as classic chignons, braided updos, messy buns, or half-up styles.
Follow step-by-step tutorials for each style, including techniques like twisting, braiding, and securing with bobby pins.
Customize your updo by adjusting the placement, looseness, and accessories. Practice the hairstyle beforehand to ensure comfort and familiarity, and finish with a spritz of hairspray to keep it in place.
With creativity and a little practice, you can achieve stunning up hairstyles that elevate your medium-length hair for any special occasion.
Classic Prom Hairstyles for Medium Hair
1) Romantic Updo
A classic updo is a timeless choice for prom night. This elegant hairstyle works well for medium hair, as you can gather your locks into a sophisticated bun or twist. You can leave some loose strands around your face to soften the look and create a romantic vibe.
2) Half-Up, Half-Down Style
The half-up, half-down style is a versatile option that combines the elegance of an updo with the free-flowing beauty of loose hair.
With medium hair, you can create a charming half-up hairstyle by pulling back the top section of your hair and securing it with a clip or hair tie.
This style allows you to showcase your length while adding volume and dimension to your overall look.
3) Sleek Ponytail
For a sleek and polished look, a high or low ponytail can be an excellent choice for prom. Gather your medium hair and secure it with an elastic band, smoothing out any bumps or flyaways.
You can also wrap a section of hair around the base of the ponytail to conceal the elastic and add an elegant touch.
4) Soft Waves
Soft waves are a classic and romantic option for prom hairstyles, particularly suited for straight hair. You can achieve this look by using a curling iron or hot rollers to add gentle waves to your medium straight hair.
This style exudes elegance and pairs well with various dress styles, adding a touch of sophistication to your overall appearance.
Trendy Prom Hairstyles for Medium Hair
1) Messy Bun with Braids
Embrace the trendy and effortless look of a messy bun with braids. Start by creating loose waves in your medium hair, then gather it into a messy bun at the nape of your neck. To add a bohemian twist, incorporate braids into the bun or create braided sections to frame your face.
2) Twisted Crown
Create a regal and enchanting look with a twisted crown hairstyle. Divide your medium hair into two sections, twist each section away from your face, and secure them at the back of your head, creating a crown-like effect.
This style adds a touch of elegance and works well with both simple and elaborate prom dresses.
3) Low Chignon
A low chignon is a sophisticated and chic hairstyle that is perfect for medium hair. Gather your hair at the nape of your neck and twist it into a knot or bun, securing it with bobby pins.
This sleek and polished look is versatile and can complement various prom dress styles.
4) Fishtail Braid
Make a statement with a stunning fishtail braid. This intricate and eye-catching hairstyle is achieved by weaving two sections of hair together in a crisscross pattern.
The result is a beautiful braid that adds texture and visual interest to your medium hair, making it a perfect choice for prom.
How to do an updo bun with medium hair?
To create an updo bun with medium hair, start by preparing your hair with styling products that add texture and hold.
Gather all your hair into a ponytail at the desired height, then twist the ponytail tightly in one direction until it forms a bun shape. Secure the bun with bobby pins, making sure to tuck any loose ends underneath.
For a neater look, smooth out flyaways using a comb or your fingertips. To add extra hold, spray the updo bun with hairspray.
You can also accessorize with decorative pins or flowers for a touch of elegance. With these simple steps, you can achieve a beautiful updo bun that complements your medium-length hair and adds sophistication to any occasion.
How to do messy space buns with medium hair?
To create messy space buns with medium hair, start by preparing your hair with a texturizing spray or dry shampoo to add volume and grip.
Divide your hair into two equal sections, one on each side. Take one section and twist it loosely away from your face, forming a bun shape. Secure it with bobby pins, leaving the ends of your hair out for a messy look. Repeat the same process with the other section.
Adjust the buns by pulling on them gently to create more volume and looseness. You can also leave some strands of hair around your face to frame it. Finish by spritzing hairspray to hold the style in place.
These messy space buns are a fun and trendy hairstyle for medium hair that adds a playful and youthful touch to your overall look.
Accessories to Enhance Prom Hairstyles
To elevate your prom hairstyle, consider incorporating accessories that complement your overall look. Here are some accessory ideas for medium hair:
1) Hairpins and Barrettes
Add a touch of sparkle or a pop of color with decorative hairpins and barrettes. Whether you choose crystal-encrusted pins or floral-inspired barrettes, these accessories can accentuate your hairstyle and add a touch of glamour to your prom look.
2) Headbands and Tiaras
For a princess-like vibe, opt for a delicate headband or a sparkling tiara. These accessories can be worn with various prom hairstyles, adding a regal touch and enhancing your overall ensemble.
3) Ribbons and Bows
Incorporate ribbons or bows into your prom hairstyle for a charming and whimsical touch. You can tie a ribbon around a ponytail or incorporate a bow into an updo, creating a playful and feminine look.
Styling Tips for Prom Hairstyles
To ensure your prom hairstyle looks flawless and lasts throughout the night, here are some essential styling tips:
1) Preparing Your Hair
Before styling, ensure that your hair is clean and dry. Apply a heat protectant spray before using any hot tools to prevent damage.
If your hair tends to be oily, consider washing it the day before prom to allow it to settle and hold styles better. If you have fine or thin hair, you can add some volume by using a volumizing spray or mousse at the roots.
2) Choosing the Right Products
Selecting the right products is crucial for achieving the desired look and maintaining the longevity of your prom hairstyle. Opt for hairsprays that provide a strong hold without leaving a sticky residue.
Additionally, use styling products like serums or creams to tame frizz and add shine to your locks.
3) Working with Hot Tools
When using hot tools such as curling irons or straighteners, it's important to protect your hair. Apply a heat protectant spray evenly throughout your hair before using any heat styling tools.
Take small sections of hair at a time and curl or straighten from the mid-lengths to the ends, holding the tool for a few seconds before releasing.
Final Touches and Finishing Products
To ensure your prom hairstyle stays intact and looks polished, consider using the following finishing products:
1) Hairspray
A good-quality hairspray will help secure your hairstyle and prevent it from falling apart as the night progresses. Choose a hairspray that offers a strong hold without making your hair stiff or sticky. Lightly mist your hair with hairspray after styling to set the look in place.
2) Shine Serum
For added shine and to tame any flyaways, apply a small amount of shine serum or hair oil to the ends of your hair. This will give your prom hairstyle a glossy finish and make it look more polished and sophisticated.
3) Texture Spray
If you're going for a tousled or textured look, a texture spray can be your best friend. Spritz some texture spray onto your hair and gently scrunch or tousle it to create effortless waves or a messy, undone effect.
Conclusion
When it comes to prom hairstyles for medium hair, the options are abundant. From classic updos to trendy braids and waves, there is a style to suit every personal preference and dress style. Consider your hair length, texture, face shape, and dress neckline when choosing the perfect prom hairstyle.
Don't forget to accessorize with hairpins, headbands, or tiaras to enhance your look. By following the styling tips and using the right products, you can ensure your prom hairstyle looks stunning and lasts throughout the night, making you the belle of the ball.
FAQs:
Can I do prom hairstyles for medium hair on my own?

Absolutely! Many prom hairstyles for medium hair can be achieved with some practice and the right tools. You can find tutorials online or seek help from a friend or family member if needed.

How long does it take to create a prom hairstyle for medium hair?

The time required depends on the complexity of the hairstyle and your familiarity with the technique. It's recommended to allocate at least an hour for styling to ensure ample time for adjustments and touch-ups.

What if my hair is too thin for some of these hairstyles?

If you have thin hair, you can use volumizing products and techniques to add body and fullness. Additionally, hair extensions can be used to create the illusion of thicker hair and make more intricate styles achievable.

Should I match my prom hairstyle with my dress color?

While it's not necessary to match your hairstyle with your dress color, it's important to consider the overall harmony of your look. Opt for a hairstyle that complements your dress and enhances your natural features.

Can I use extensions to add length and volume to my medium hair?

Absolutely! Hair extensions can be used to add both length and volume to medium hair. There are various types of extensions available, such as clip-ins, tape-ins, or sew-ins. Consult with a professional stylist to determine the best type of extensions for your hair and desired prom hairstyle.
I am Rebecca White, a passionate fashion blogger with an expertise in hair styling and tattoos. I have spent years honing my skills and knowledge in these areas, and have become known for helping my followers achieve their desired looks. Through my blog, I share helpful tips and tricks on how to achieve the perfect hairstyle or tattoo design, while staying up-to-date on the latest trends in fashion.