11+ Top Down Hairstyles for Prom 2023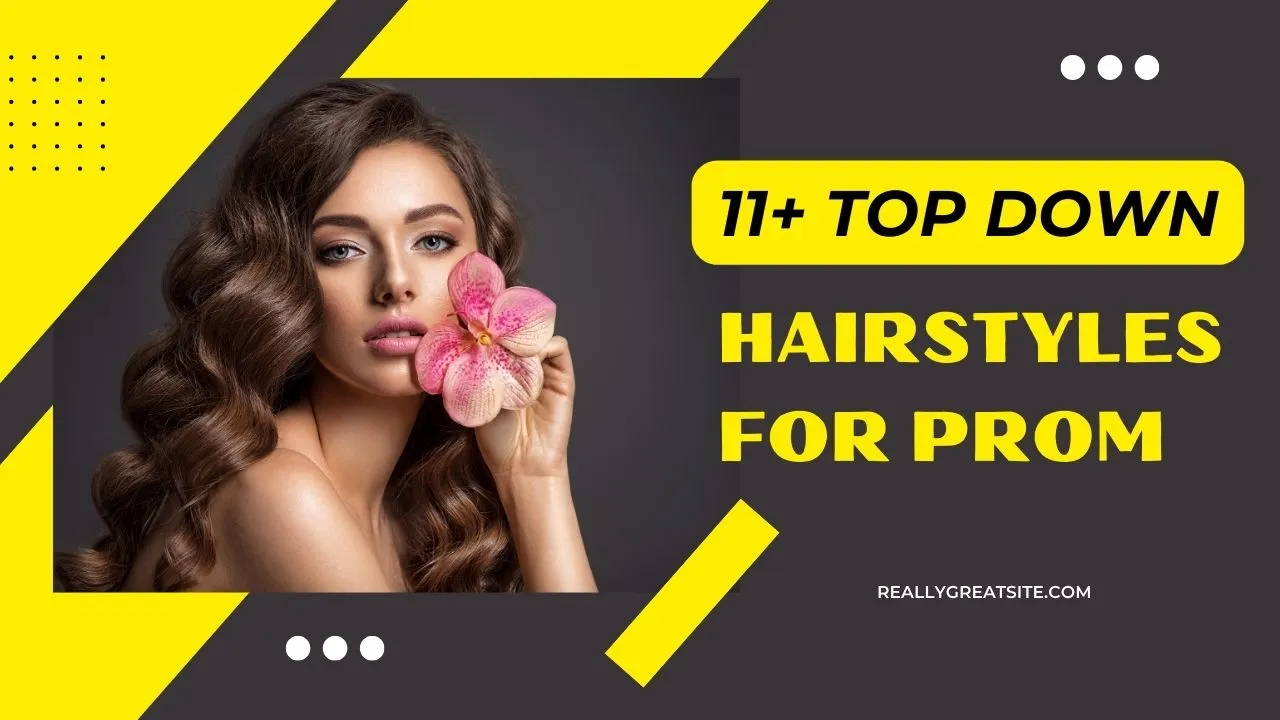 Prom night is one of the most memorable and magical nights in a young person's life. In my view, choosing the perfect prom look, from the dress to the makeup and hairstyle, is an essential part of making the evening truly special.
This article will focus on down hairstyles for prom, and provide you with the inspiration you need to look and feel your best on the big night. Let's dive in!
The Importance of Choosing the Right Hairstyle for Prom
As far as I'm concerned, the right hairstyle can make or break your prom look. It should not only complement your outfit and makeup, but also reflect your personality and style. Additionally, it should be comfortable and long-lasting, ensuring you can dance the night away without a worry.
Down Hairstyles for Prom 2023
1) Wavy and Romantic
A romantic down hairstyle is perfect for those who want to channel their inner princess. Loose waves cascading down your back, paired with a few strategically placed bobby pins to keep the hair out of your face, create an ethereal look that will surely turn heads.
2) Sleek and Straight
For a bold and modern look, consider a sleek and straight down hairstyle. This style is particularly flattering for those with long, straight hair.
Use a flat iron and some hair serum to achieve a glossy, smooth finish that will last all night long.
3) Curly and Voluminous
Curly hairstyles are a great option for those with naturally curly or wavy hair. Add some extra volume with a diffuser and hair mousse, and let your curls take center stage.
You can also use a curling iron or wand to create soft, bouncy curls if your hair is naturally straight.
Simple Prom Hairstyles: Effortless Elegance
For a more casual chic vibe, consider a simple down hairstyle that is both easy and elegant. A soft, beachy wave or a sleek, straight look can effortlessly elevate your prom ensemble without overshadowing your dress or makeup.
Gorgeous Prom Hairstyles: Turning Heads
If you're looking to make a statement with your prom hairstyle, consider a more elaborate down hairdo that incorporates intricate braids, twists, or accessories.
A licensed hairstylist can help you achieve a unique and stunning look that will have everyone talking.
Unique Hairstyles: Stand Out from the Crowd
Why not try a one-of-a-kind down hairstyle for prom? Incorporate elements like braids, twists, or even hair extensions to create a look that is truly your own.
Don't be afraid to take risks and let your creativity shine!
Makeup and Hair Care Tips for Prom Night
To ensure your hair stays in place all night, invest in a high-quality hair-holding spray or hair gel. Additionally, make sure your makeup complements your hairstyle and overall prom look.
Skin Care: Preparing for the Big Night
In the weeks leading up to prom, focus on maintaining a healthy skincare routine to achieve a glowing complexion.
A regular skincare routine, including cleansing, exfoliating, and moisturizing, can help you look and feel your best on prom night.
Hairstyle Trends and Formal Hairstyles
Stay up-to-date with the latest hairstyle trends by following popular hairstylists on social media and browsing online galleries.
This will help you find the perfect down hairstyle for prom that is both fashionable and flattering.
Pant-suit Hairstyles: Chic and Modern
If you're opting for a pant-suit instead of a gown, consider a down hairstyle that is sleek and sophisticated.
Straight or wavy hair with a deep side part can add a touch of glamour to your modern prom ensemble.
Gown Hairstyles: Timeless Elegance
For those wearing a gown, a down hairstyle that accentuates the dress's neckline and features is a must.
Soft waves or loose curls can create a romantic, timeless look that pairs beautifully with a classic prom gown.
Versatile Hairstyles: From Casual to Formal
Choose a down hairstyle that can be easily transformed from a casual daytime look to a stunning evening style.
This way, you can enjoy your prom day to the fullest without spending hours on your hair.
How to Choose the Perfect Hairstyle for Your Prom Outfit
To my mind, the key to selecting the perfect down hairstyle for your prom look is to consider your dress, makeup, and personal style.
Take the time to try out different hairstyles before the big night to ensure you find the one that makes you feel confident and beautiful.
Tools and Products for a Lasting Hairstyle
To achieve a long-lasting down hairstyle for prom, invest in high-quality tools and products like a curling iron or wand, a flat iron, hair mousse, hair foam, and hair ties. These items will help you create a stunning look that stays in place throughout the night.
Conclusion
In conclusion, down hairstyles for prom are a versatile and stylish option that can be tailored to suit your individual style and preferences. By considering the latest trends, your prom outfit, and your personal tastes, you can create a stunning down hairstyle that will make you feel like the belle of the ball.
With the right tools, products, and a little bit of creativity, you can achieve a show-stopping prom look that will be remembered for years to come.
FAQs
What are some popular down hairstyles for prom 2023?

Some popular down hairstyles for prom 2023 include romantic waves, sleek and straight styles, and voluminous curls.

How can I make my down hairstyle last all night?

Invest in high-quality hair products like hair-holding spray, hair gel, and hair mousse to help your hairstyle stay in place throughout the night.

Should I consult with a professional hairstylist for my prom hairstyle?

Consulting with a licensed hairstylist can provide valuable insights and expertise in creating a unique and stunning prom hairstyle.

What are some tips for choosing the perfect down hairstyle for my prom outfit?

Consider your dress's style, neckline, and features, as well as your personal taste and current hairstyle trends when selecting the perfect down hairstyle for prom.

Are down hairstyles suitable for all hair types and lengths?

Down hairstyles can be adapted to suit various hair types and lengths. Consult with a hairstylist to find the perfect down hairstyle for your unique hair type and length.

Can I wear my hair down for prom?

Absolutely! Wearing your hair down for prom is a popular choice and can create a stunning and effortlessly glamorous look.
I am Rebecca White, a passionate fashion blogger with an expertise in hair styling and tattoos. I have spent years honing my skills and knowledge in these areas, and have become known for helping my followers achieve their desired looks. Through my blog, I share helpful tips and tricks on how to achieve the perfect hairstyle or tattoo design, while staying up-to-date on the latest trends in fashion.